Complete Your Bachelor's Online

Whether transferring from another school or finishing a degree you started years ago, Morehouse Online bachelor's degree programs provide the high-caliber learning and supportive brotherhood you need to transform from learner to leader.
LIBERAL ARTS DEGREES FOR RISING LEADERS
Our liberal arts approach allows you to focus on a particular area of study while preparing for leadership in all areas of life.
B.A. in Business Administration
Develop a strong business foundation, master creative problem-solving, learn to manage teams and projects, lead innovation, and build ethical leadership skills.
We plan to offer additional online degree options at a later date.

DEMAND MORE FROM YOUR ONLINE EDUCATION
Some are okay with the status quo. But not Morehouse. Like you, we're always seeking more—more excellence, more knowledge, more growth, more access. Our online programs are no exception. We've built an online bachelor's experience unlike any other—one that connects you to a renowned HBCU community and empowers you to reach your greatest potential.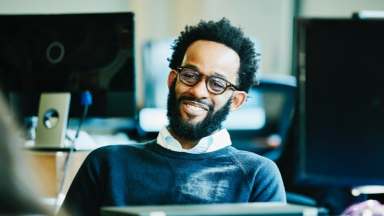 FACE-TO-FACE CONNECTIONS
Classes are conducted live via Zoom to enable in-depth discussion and collaboration with classmates, faculty, and mentors.
INTERACTIVE DIGITAL CAMPUS
Engage with our challenging curriculum through interactive video lectures, collaborative annotation tools, and question-and-answer boards.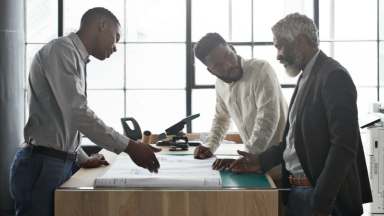 ACCESS FOR ALL LEARNERS
Complete coursework at your own pace. Pursue your degree full or part time. Use digital tools to support your learning and our mobile app for on-the-go access.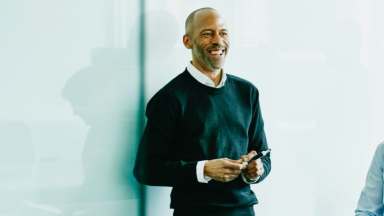 BUILT FOR RESULTS
Our programs are developed in partnership with education technology experts, ensuring an experience that yields results in your career and your life.
MORE ACCESS FOR MORE MEN.
We offer tuition at an accessible rate to allow more talented men to become distinguished leaders.
ADMISSIONS REQUIREMENTS
We offer August, January, and May start dates for our online bachelor's degree programs. Applicants must provide proof of high school graduation and some previous college credit to be considered.
15+
Previous College Credits
2.75
Cumulative College GPA
MOREHOUSE SUPPORT STARTS NOW
We understand that returning to college or transferring to a new school is a big commitment. With Morehouse Online, you don't have to do it alone. As a Man of Morehouse, you will benefit from an expansive support network made up of:
Faculty who know you by name.
Like-minded and motivated classmates.
Admissions and student success specialists.
A personal academic advisor.
And you don't need to wait until you're a student to receive support. Our admissions advisors are here to guide you every step of the way and answer any questions you have. Whether you need assistance requesting transcripts or want to brainstorm personal statement ideas with someone, our team is here for you.
Contact an admissions advisor today. Call our team at 855-609-1097, or email us.
READY FOR MORE?
You're prepared to become a distinguished leader. We're excited to welcome you.